Rock Hill Mechanical values the community in which it works. Being environmentally conscious and committed to sustainable practices in the mechanical contracting industry, we promote the importance of "green initiatives" for plumbing, heating and air conditioning systems and the impact they can have on buildings and the people who inhabit them.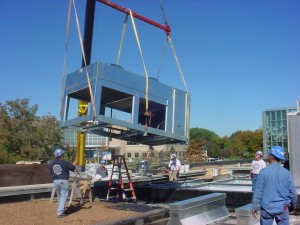 As a company, we do our part to recycle and evaluate how we can reduce waste on a day-to-day basis. RHMC has LEED AP's on staff and are active in promoting green building practices.
Environmental sustainability in manufacturing is nowadays an urgent and remarkable issue and the main concerns are related to more efficient use of materials and energy.
As a member of the United States Green Building Council and an ENERGY STAR Partner, RHMC can assist with "Green" projects, energy performance, energy cost reduction and providing better indoor air quality and optimal thermal comfort environments. Now more than ever, you need to successfully balance energy savings with occupant comfort. RHMC can assist you in developing an efficient system design as well as help you in lowering your energy and operating costs and increasing your ENERGY STAR rating.