Building Information Modeling
Rock Hill Mechanical has embraced the concepts related to Building Information Modeling (BIM) by combining our expertise in construction, engineering and technology to bring a realistic representation of a facility starting from its earliest conception to demolition.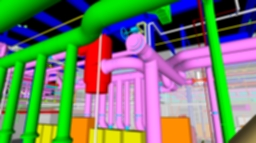 Rock Hill Mechanical creates models using manufacturer specific content which allows us the ability to deliver a LOD400/500 (Level of Development) level model to our clients. This, in turn, grants us the luxury of using our models for fabrication, tracking of material quantities and costs, COBie documentation and a record model that could be used for facilities management.
We take every opportunity we have to modularize and pre-fabricate our mechanical pipe and ductwork systems in both of our state of the art fabrication facilities. This allows us the ability to continue the assembly of our mechanical systems during down time caused by unforeseen events such as extreme weather. More importantly, by constructing in the controlled environment of our fabrication facilities, it affords us the opportunity to offer a safer work environment for our employees that couldn't otherwise be offered in the field.
Rock Hill Mechanical noticed long ago that there was something lacking in the BIM process. What is done with the model once it reaches the field? The development of a highly detailed model doesn't ensure that everything will get installed in the field as it is in the model. Rock Hill Mechanical has invested in Trimble's Total Station and Yuma, a robotic GPS locating system, to ensure the highest level of installation accuracy, reliability, and productivity in the field.
Our approach allows BIM to be used not only as a starting point, but as a reliable tool throughout the lifecycle of a facility.