Always leading the industry, Rock Hill Mechanical was one of the first contractors in the Midwest to install a computerized ductwork coil line and an automated spiral duct fabrication line. Since we began providing quality sheet metal fabrication services to our customers in 1956, Rock Hill has successfully completed a wide range of unique and challenging fabrication projects.
Applications
Our vast experience has allowed us to gain the knowledge and expertise necessary to provide our clientele with a full range of quality sheet metal fabrication services in a timely and cost effective manner. Our services include:
Design / Build System Fabrication
Blow Pipe Fabrication
Commercial Fabrication
Industrial Fabrication
Custom Air Handler Housing Fabrication
Air Handling Equipment Fabrication
Spiral Round & Oval Ductwork
Custom Fabrication
Short Run Production Fabrication
Planned Maintenance and Emergency Repair
Tank and Vessel Fabrication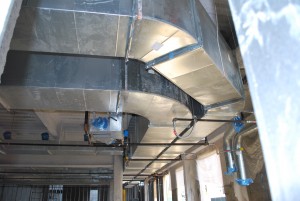 Certification
Rock Hill Mechanical is certified to fabricate Galvanized Steel, Black Iron, Stainless Steel and Aluminum. We have the proven capability of producing the largest quantity of Duct Work in the Midwest. Rock Hill utilizes the latest equipment, technology and processes to economically produce the highest quality mechanical fabrication available.