Piping Installation
The tradespeople are the front line to any piping installation, and we have the best in the business. Each apprentice receives a minimum of 5 years schooling in the finest facilities available to the pipefitting industry—making them truly the most productive labor force for your project. Our welders are certified for a large variety of metallurgies through ASME Section IX. We work hundreds of thousands of piping man hours each year, enabling us to maintain a highly skilled workforce familiar with both our procedures and our commitment to quality.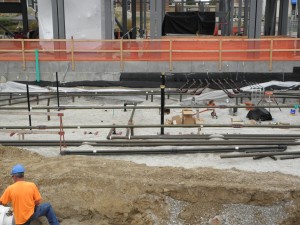 Welding Qualifications & ASME Code Work
Our welders are certified through ASME Section IX, the most stringent requirements in the industry, and are approved by the State of Ohio. While undergoing vigorous ASME welding procedure inspections we maintain the following ASME code welding stamps:
"U" stamp to manufacture and assemble unfired pressure vessels
"R" stamp to perform alterations and repairs to power boilers and pressure vessels
"S" stamp to fabricate and assemble pressure piping
Rock Hill Mechanical Corporation is  certified to build, repair, and alter pressure vessels and repair and alter boilers  per ASME Section VIII, and NBIC pressure vessel codes.  We are also certified to fabricate and install pressure piping per ASME B31.1 and B31.3 piping codes.
We have weld procedures for the following materials: Carbon Steel, Stainless Steel, Chrome Moly P-11/P-22/P-91, Nickel 200/201, Monel 400 & R-405, Hastelloy (all alloys), Nicofer 6025HT, CyTemp CY-40, VDM 59, SM2060Mo, AllCorr, CRHC2000, CRM21, SM2050, SM2550, Inconel (all alloys), Carpenter 20, 20Mo6, HR120, SM2035, Haynes Alloy 20, AL6X, AL6XN, JS700, Incoloy (all alloys), VDM 1925, 25-6Mo